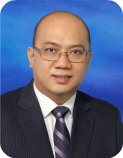 Lawrence Low [Bsc (Hons) – Quantity Surveying, MSiArb]
is a construction professional with over 25 years' experience in a plethora of construction contract and commercial domains including quantity surveying, contracts administration, commercial management and dispute resolution. With his diverse exposure, Lawrence provides effective and comprehensive solutions to the issues on hand.
Lawrence started his career as a quantity surveyor and subsequently a contracts consultant servicing construction firms with contract administration and dispute resolution related services for years. With his contracts and commercial management skills and experience and by implementing prudent compliance regimes, Lawrence has been simultaneously handling dispute resolution under SOP Act, involving in Arbitration and Adjudication together with setting-up tangible and scalable operational procedures for achieving the project and organisational objectives.
For more than a decade before founding Paramount Solutions, Lawrence has been involved in senior management assignment including being a country manager (Singapore) for a well-established contracts consultancy firm having offices in Hong Kong and Malaysia, and a senior commercial manager with a Japanese construction major. His last assignment, before the incorporation of Paramount Solutions, was being a general manager and executive officer for a public listed (in Main Board Singapore Exchange) company in Singapore.
Lawrence was involved in various projects across different geographical jurisdictions in the Asia-Pacific Region (Cambodia, China, Indonesia, Malaysia, Singapore, Taiwan and Thailand), Middle East (United Arab Emirates), Sudan and Bangladesh.
For more details you may download Lawrence's CV.
Lawrence may be contacted at +65 – 93897763 or lawrence.low@paramountsolutions.com.sg
---