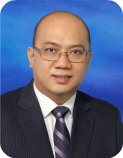 Lawrence Low [Bsc (Hons) – Quantity Surveying, MSiArb] 
is a construction professional with over 25 years' experience in a plethora of construction contract and commercial domains including quantity surveying, contracts administration, commercial management and dispute resolution. With his diverse exposure, Lawrence provides effective and comprehensive solutions to the issues on hand.
Lawrence started his career as a quantity surveyor and subsequently a contracts consultant servicing construction firms with contract administration and dispute resolution related services for years. With his contracts and commercial management skills and experience and by implementing prudent compliance regimes, Lawrence has been simultaneously handling dispute resolution under SOP Act, involving in Arbitration and Adjudication together with setting-up tangible and scalable operational procedures for achieving the project and organisational objectives.
For more than a decade before founding Paramount Solutions, Lawrence has been involved in senior management assignment including being a country manager (Singapore) for a well-established contracts consultancy firm having offices in Hong Kong and Malaysia, and a senior commercial manager with a Japanese construction major. His last assignment, before the incorporation of Paramount Solutions, was being a general manager and executive officer for a public listed (in Main Board Singapore Exchange) company in Singapore.
Lawrence was involved in various projects across different geographical jurisdictions in the Asia-Pacific Region (Cambodia, China, Indonesia, Malaysia, Singapore, Taiwan and Thailand), Middle East (United Arab Emirates), Sudan and Bangladesh.
For more details you may download Lawrence's CV. 
Lawrence may be contacted at +65 – 93897763 or lawrence.low@paramountsolutions.com.sg   
---
K. P. Praveen [LCEE-VJTI, BE – Civil, PgdACM, MSiArb, LLB (Hons)]
is a construction professional who has specialized in providing commercial and contractual advice for over 15 years in India, Middle East (United Arab Emirates) and Singapore. Praveen's forte lies in identifying contractual and commercial risks and advising effective strategies for resolution of the same. He is able to provide diverse perspectives to account for various potential arguments which might be pursued by the parties to the dispute.
Praveen started his career as a contract administrator at a billion dollar project in the Emirate of Dubai. He was predominantly involved in the sub-contract administration on behalf of the main contractor. Subsequently he had a stint with a contract claim consultancy in Singapore where he assisted main contractors and sub-contractors in time and cost claims. His latest assignment before co-founding Paramount Solutions, was as a Senior Commercial Manager for a public listed construction firm in Singapore where he was involved in all commercial and contractual aspects of the company.
Praveen has exposure to various standard forms of contract including FIDIC, PSSCOC, SIA, and REDAS as also bespoke contract documents of leading main contractors. He has also been involved in a litigation, arbitration and adjudication under SOP Act, Singapore.
Praveen holds qualifications in civil and environmental engineering vide his full time licentiate diploma from VJTI (1997 – 2001) and bachelors of engineering from Mumbai University (2001 – 2004). He has also completed post graduate diploma in advanced construction management from NICMAR (2005 – 2007). Praveen also holds LLB (Hons) from University of London. Praveen is a member of the Singapore Institute of Arbitration. Praveen was also a certified cost engineer (CCE, 2008-2011), American Association of Cost Engineering.
For more details you may download Praveen's CV .
Praveen may be contacted at +65 – 81578017 or praveen.kp@paramountsolutions.com.sg
---